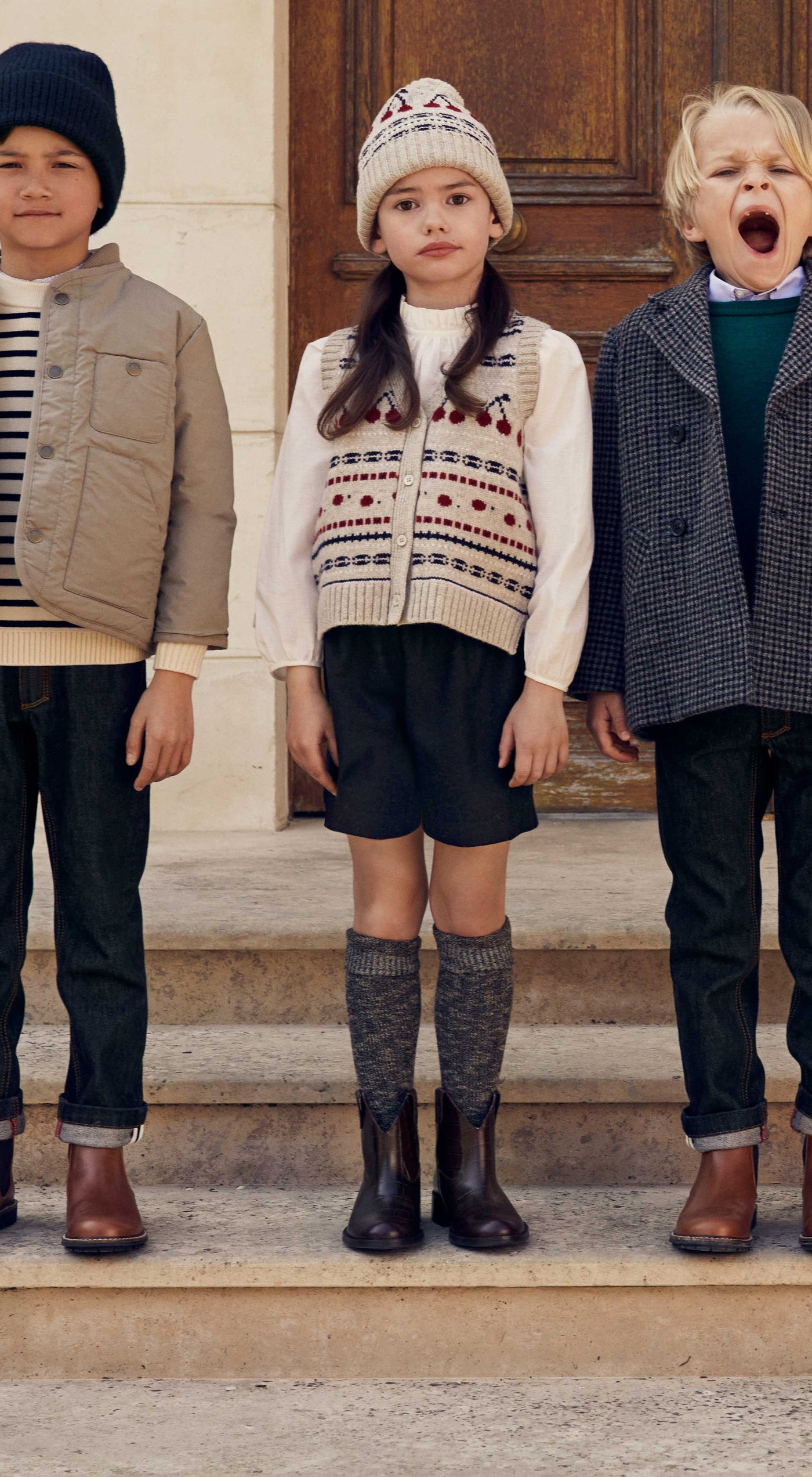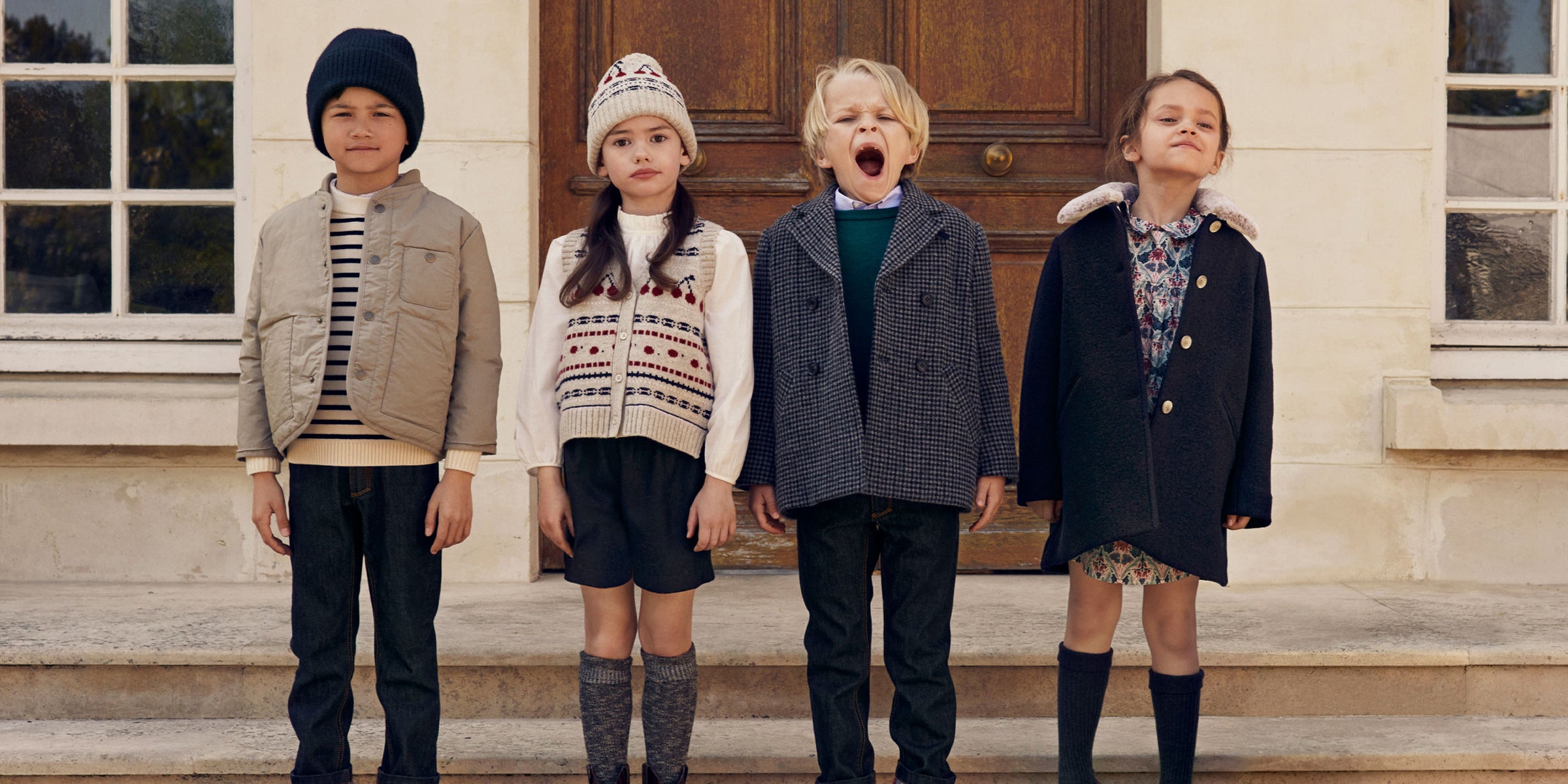 Fall-Winter 2023 Collection
---
The Bonpoint Fall/Winter 2023 collection is a tribute to the special times in a child's life. These seasonal snapshots capture shared moments in the schoolyard, the family home, and adventures in the city or the countryside immersed in nature, enhanced by looks imbued with evocative memories.
---
Pre-fall / In the colors of Indian summer
To immortalize magical moments lulled by the warm air and gentle breeze, Bonpoint has created beautiful cross-seasonal looks. Floral dresses are like an invisible link to carefree vacations but arenow layered with light knits, while short-sleeved blouses have been replaced by long-sleeve versions. Casual denim is worn to transition seamlessly into fall as summer draws to an end. Withcasual nonchalance, girls slip on a T-shirt featuring a vintage print. The warm sunny days are quickly flying by.
---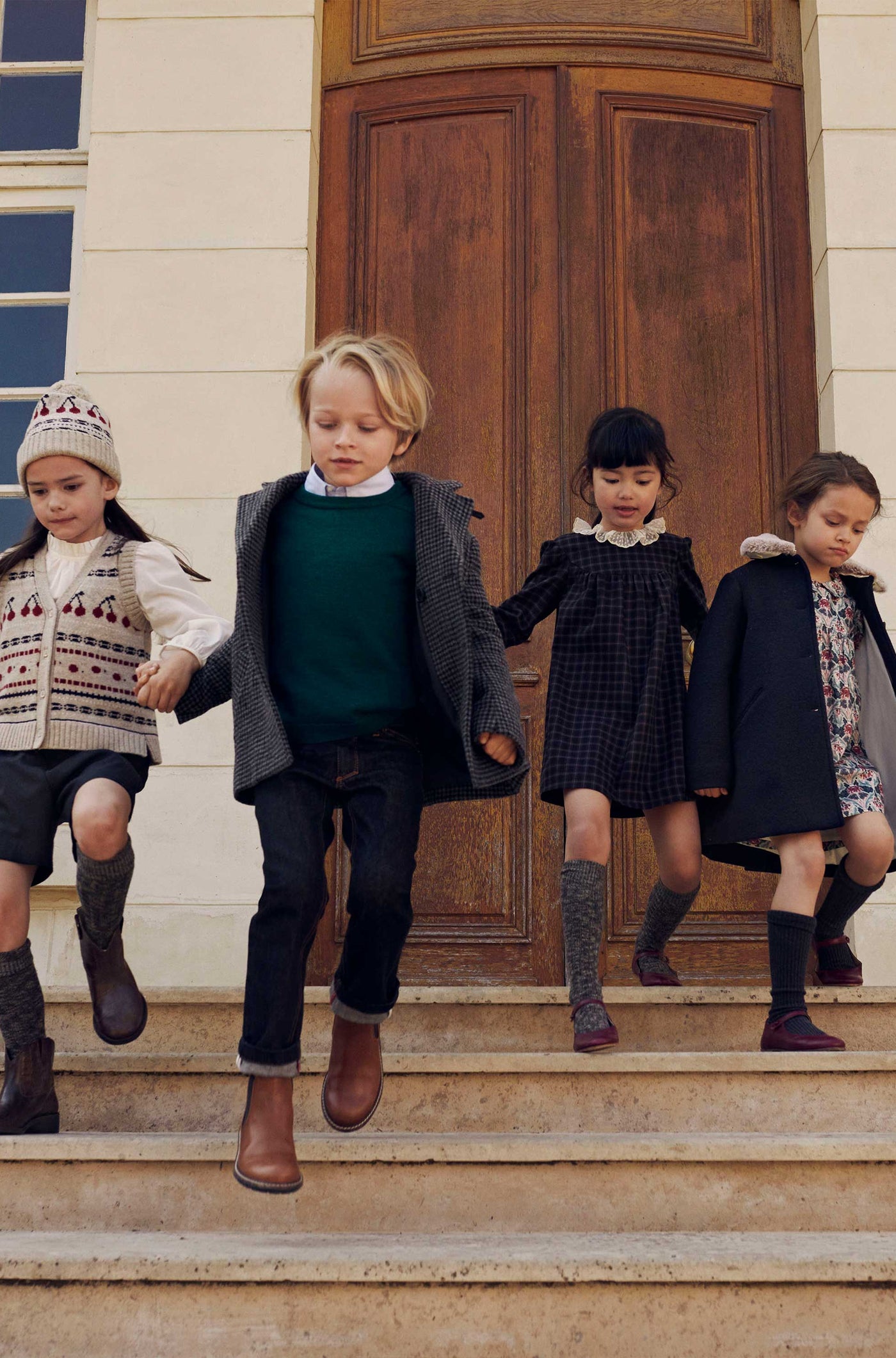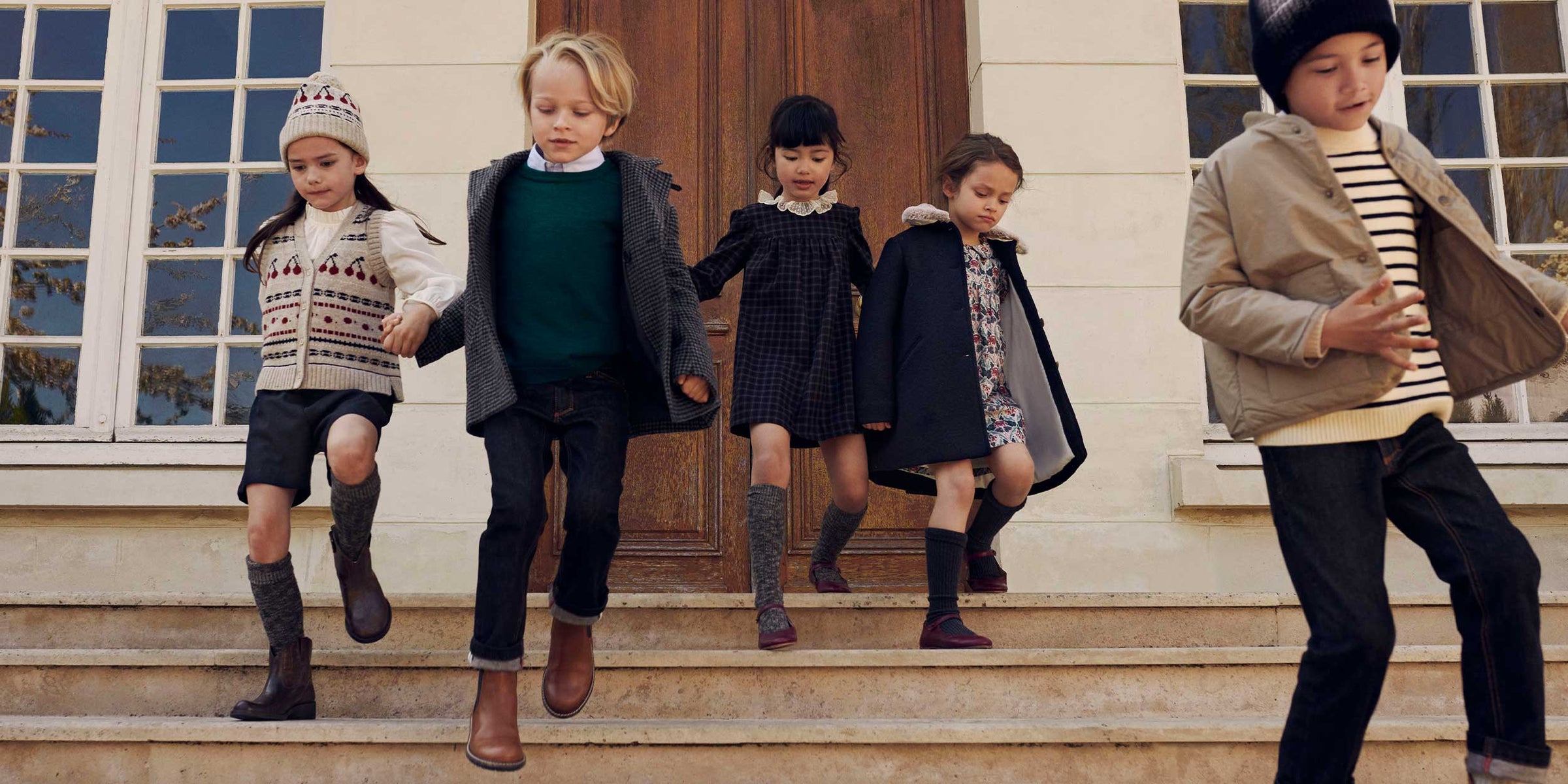 ---
The spirit of water
The call of the ocean is never far away. Next stop: the city of Venice to dip your toes in the "Aqua Alta". At nightfall, as the sun sets over the lagoon, the city unveils hues of soft pink and midnight blue, illuminating a Liberty fabric featuring an Art Nouveau scrolls design. The spirit of water flowst through the city and is captured in poetic outfits where lace is combined with wool plaid, and poplin elevates beige velvet creating a beautiful masquerade.
---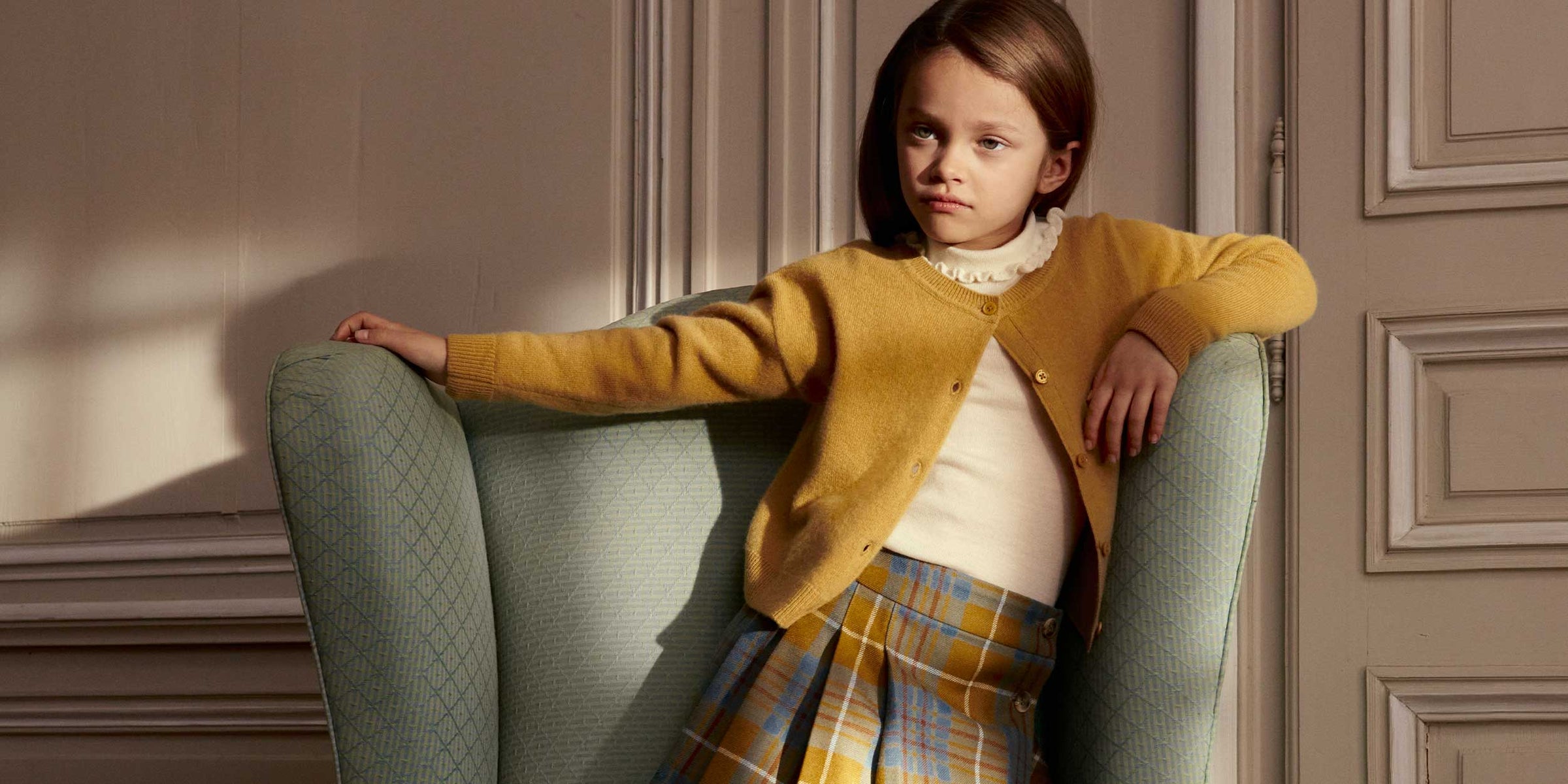 ---
Back to school
The school bell is ringing. Our young students proudly flaunt hipster-style cherry jacquard-pattern looks that soften their mischievous smiles. The class photo features plaid skirts worn with knee socks and Mary Janes. A boy poses in a navy and white Liberty shirt that coordinates beautifully with the dresses and blouses of his classmates. The color yellow is featured on sweaters, velvet pants, and plaid shirts, like the common thread of these emotionally-charged looks. When classes are over, children throw on a tweed coat or leather biker jacket and rush out the door. They are recognizable by their trendy knit hats, scarves, and CREW baseball caps.
---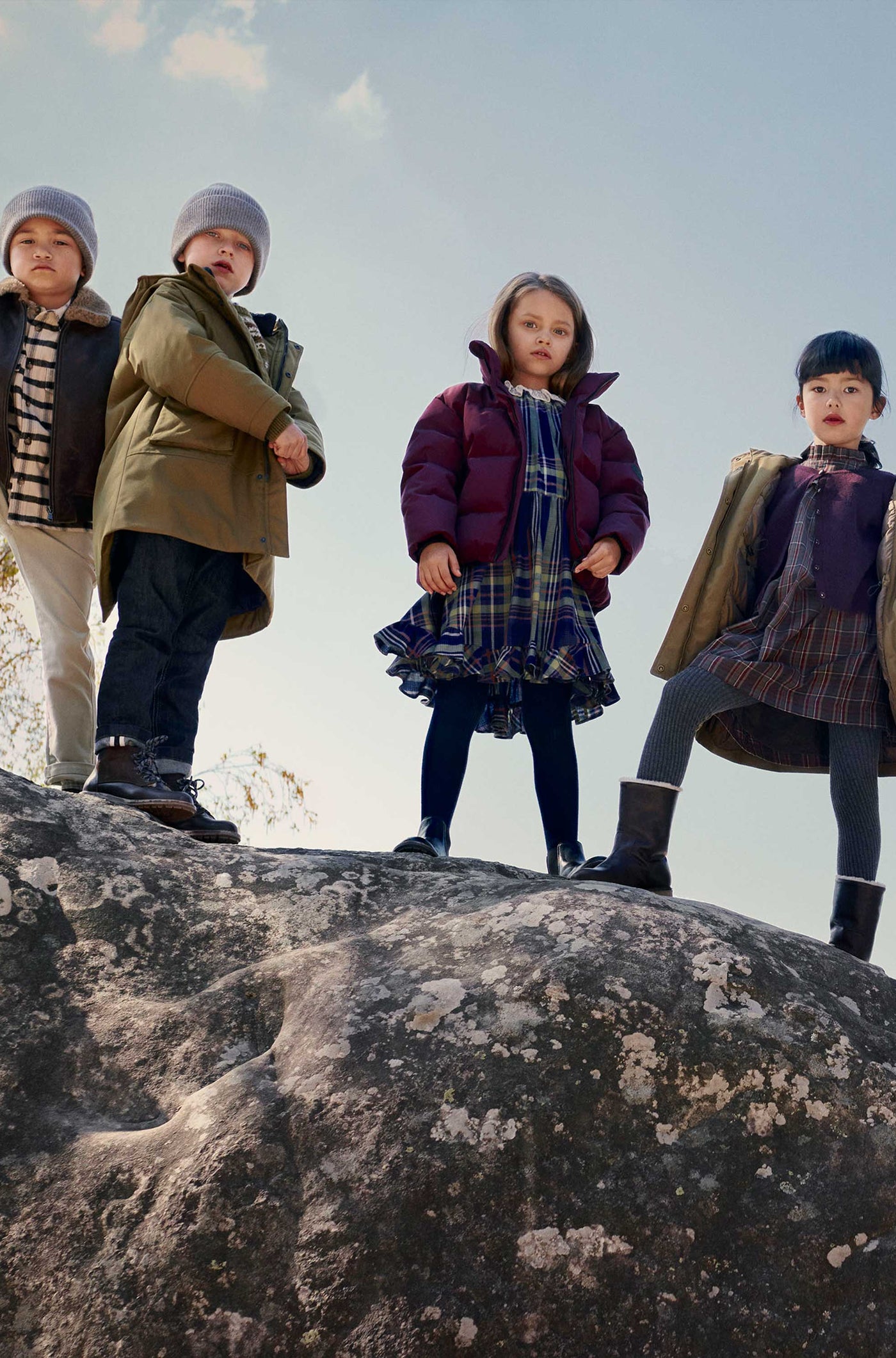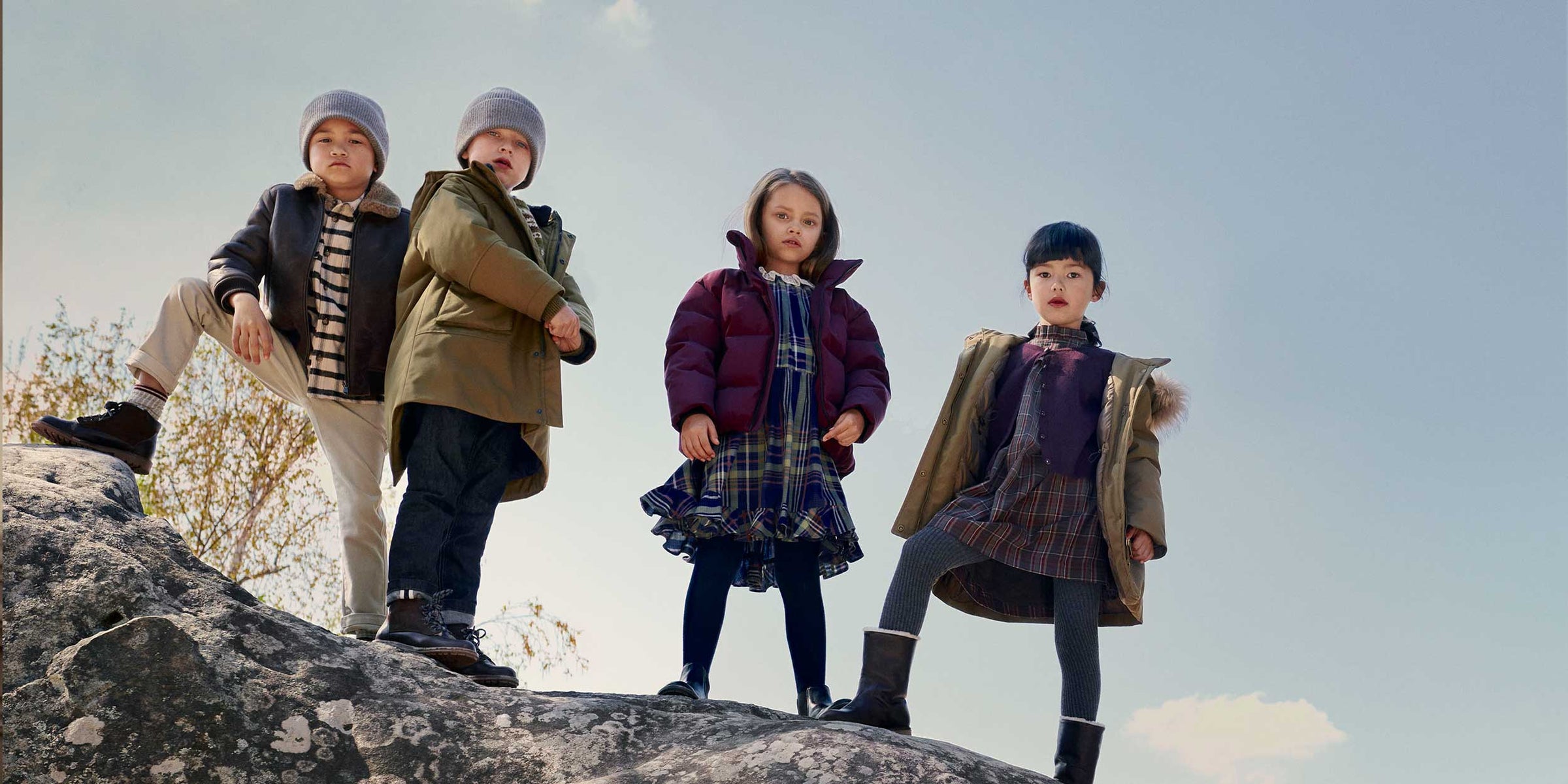 ---
Endless Horizon
Our budding adventurers are already dreaming of their escape. They put on their puffer jackets and parkas, wool sweaters and jumpsuits, and prepare to face the first chill of winter. Colors like browns, touches of mauve and deep purple create energy and warmth. Wearing fur-lined boots and a technical parka, they walk down the streets as though marching toward a new and endless horizon. As a family, they meet in unknown territory to draw up plans for a cabin in the woods. In their bags, our young explorers bring back their precious souvenirs of an impromptu treasure hunt. On the threshold of the big family home, they look absolutely irresistible in an aubergine or lamé puffer jacket worn over a tutu skirt, or an aviator jacket layered with a jacquard sweater.
---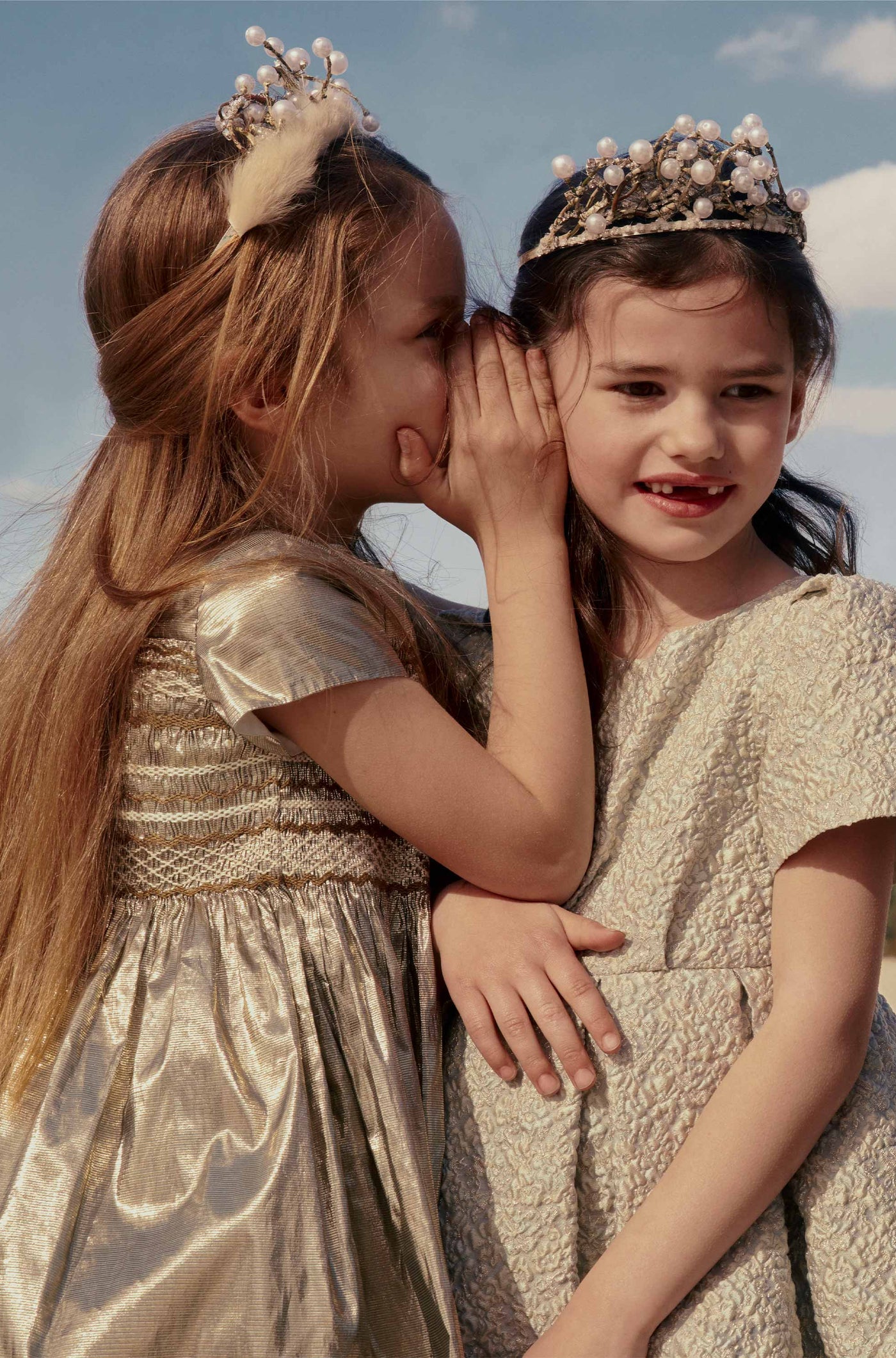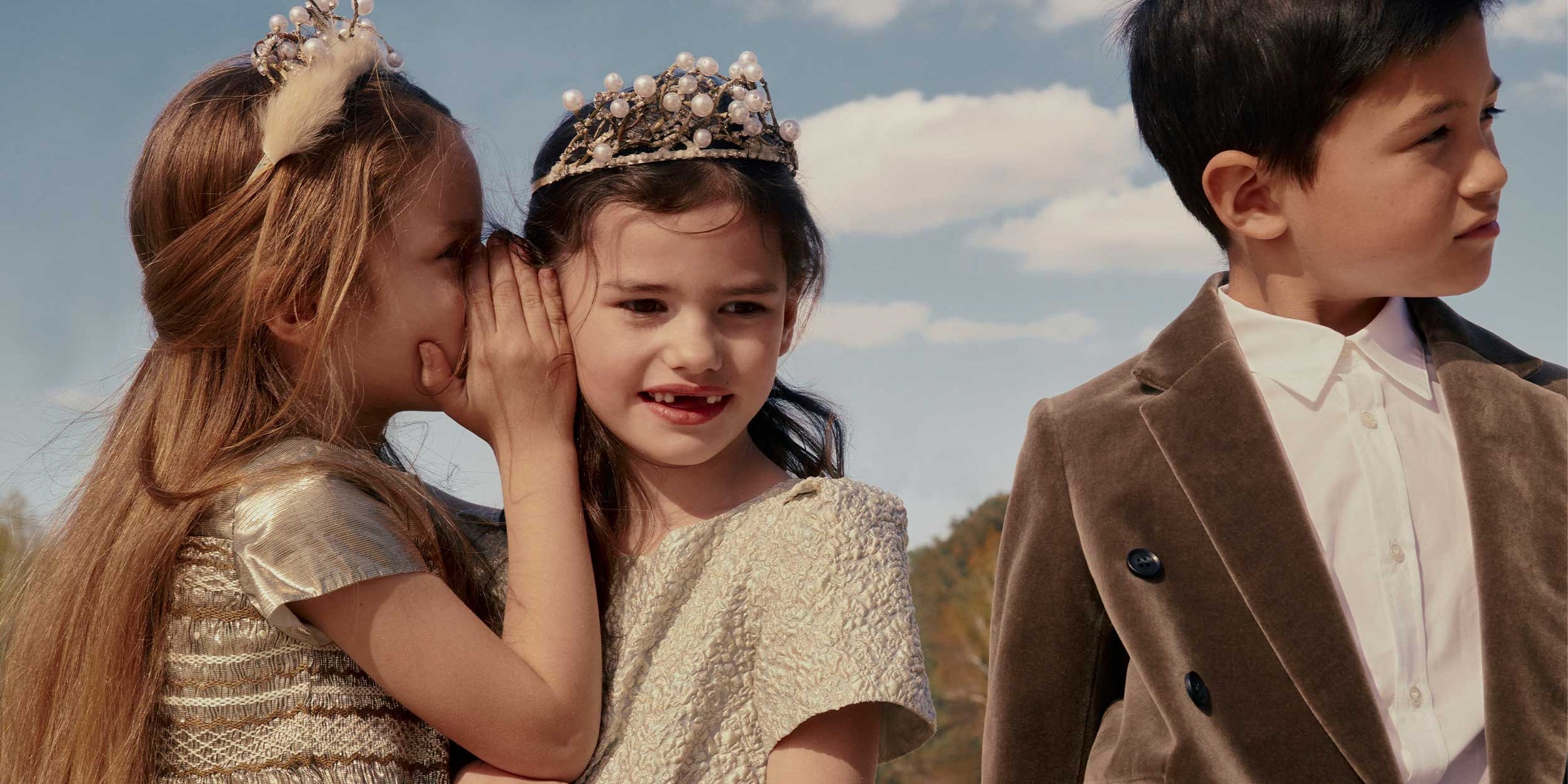 ---
Festive looks
It's time to get all dressed up. Children welcome guests in their finest attire. Bonpoint continues to celebrate these precious moments with fluttery dresses perfect for twirling, sometimes lined with tulle for an even more spectacular effect.  With open arms, young ladies welcome the Comtesse dress, a new creation from Bonpoint. This dress, featuring more structured sleeves and a boat neck collar, exudes elegance and sophistication. This year, the Bonpoint boy and baby are dressed up in a silky "marron glacé" brown velvet jacket, also worn by the girls over matching shorts. The collection is rich in lamé pieces, velvet, and prints as joyful and bright as the festivities that are about to begin.